Our Team Has The Equipment And Skills To Satisfy Our Concord Clients
6/3/2019 (Permalink)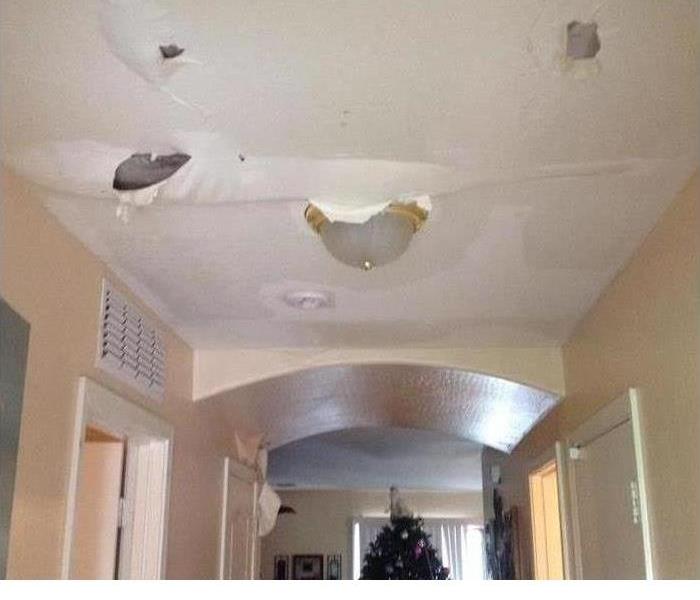 Water damage to this Concord home was caused by a water line in an upstairs bathroom bursting. We arrived right away and began restoration.
Reliable Commercial Water Cleanup Services to Revive Your Concord Business
The role of commercial water cleanup services is to help your business return to its former state after experiencing a water damage event. Since you can never predict when such experiences are likely to take place, knowing the right actions to take is essential. Every hour your business remains closed means you are losing a lot in terms of productivity and revenue. Our team offers reliable and fast restoration services to residents of Concord, and we are here to highlight some of our operations.
When our SERVPRO technicians visit your Concord property for commercial water cleanup, there are several aspects we consider. Remember, there might be several items in the structure, and each may have differing cleaning needs. It is our work to evaluate the different cleaning needs of different items by looking at their level of exposure to high humidity or water. For instance, we may decide to clean and polish your furniture as part of the restoration process. On the other hand, electronics may require specialized attention in an attempt to return them to their preloss state.
Our SERVPRO team thoroughly inspects all the storage areas, closets, and other locations at the site for items such as clothing, photographs, and wall hangings. After that, we come up with appropriate restoration techniques for the affected items. It is also our work to return the items to their original positions once the cleaning is complete. In instances where your electronics needs further inspection that is outside our scope of operations, we may advise you to subcontract such services.
We understand that a smooth restoration process requires constant communication with our clients. Our SERVPRO team always keeps you updated in every step we undertake to make you feel involved. At the end of the job, we check whether the site has the required moisture levels and perform a walk-through to make sure everything is in order.
SERVPRO of Concord has the equipment and skills to satisfy the residential and commercial needs after the experience of any size disaster. Call (603) 225-2825 at any time of the day and get a chance of working with highly trained and experienced Water Damage Restoration Technicians (WRT).
For more information about the Citizen's Police Academy, click here.