Who Can Clean Up the Water from My Concord Home?
7/30/2020 (Permalink)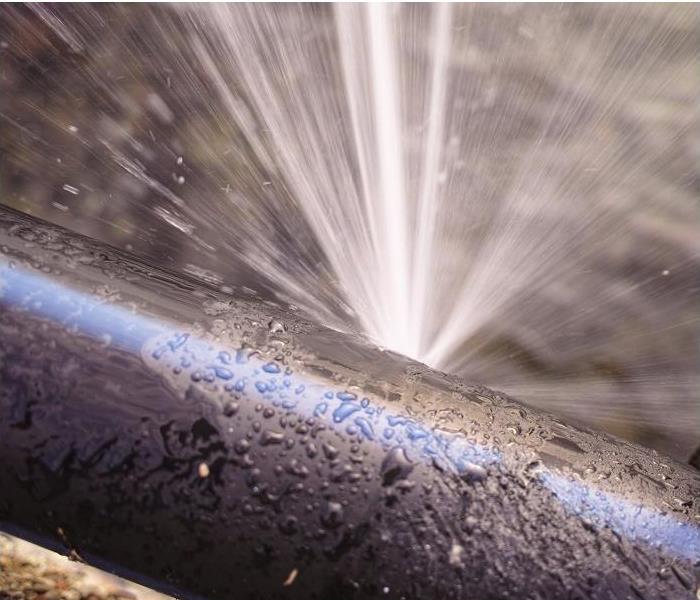 Not all water damage is obvious like this pipe spewing water. Sometimes slow drips go unnoticed. Inspect your home often for signs of leaks.
Contact SERVPRO for All Your Water Cleanup Needs
Everyone encounters this issue at one time or another. Maybe it is a leaky pipe in your Concord home that was not too noticeable, and you just let it go because it did not seem like a big deal. But before you knew it, the wall and baseboard around it were discolored, and there was a moldy, damp smell that would not go away. After removing the water, what is the next step so that your home is as good as new? SERVPRO has the answer.
What can the experts at SERVPRO do to help you clean up the water problem?
Once there has been water damage in your Concord home, you might think that using conventional cleaning methods will eliminate any underlying damage; however, this is not the case because there are several steps to clean water damage thoroughly. We use the following processes:
Contents Restoration
We train the professionals at our company to restore what items they can rather than leave you to replace them. Some possessions are irreplaceable, such as photos and other family heirlooms. Our team knows how to remediate these situations. These experts will also monitor and keep records of the drying process, ensuring proper completion.
Odor Removal and Deodorization
Water damage can leave behind odors that are unwanted and unhealthy. Our experts can permanently remove these odors by using high tech equipment and leave your home smelling fresh. The machinery they use for these services is fogging equipment and air scrubbers, which effectively remove lingering odors from the air. The services to remove unwanted smells are deodorization and odor removal. These services take care of lingering odors that air fresheners barely cover or cannot cover at all.
Sanitizing Treatments
While all sanitizing treatments used depend on the extent and amount of water damage, you can be sure that they will ensure complete sanitization of your home. We offer the following deep cleaning treatments:
Disinfectant and Sanitizing Treatments
Antibacterial and Antimicrobial Treatments
The amount of water damage determines which services are needed to treat your home effectively.
Disposal
Since some items and materials are not reparable, our company offers a disposal service. They will remove irreparable materials and items under your and your insurance agent's supervision to ensure proper disposal.
So, for any water damage cleanup, be sure to contact our company. Your home is where you should be the most comfortable without worrying about water damage and the problems that come because of it. Make the call, and you will never regret contacting the professionals that treat your home as if it is their own. Do not delay, call (603) 225-2825 and talk to a SERVPRO of Concord specialist today.
More about Concord.