Hit With Commercial Fire Damage? SERVPRO Has Got Your Back
10/26/2018 (Permalink)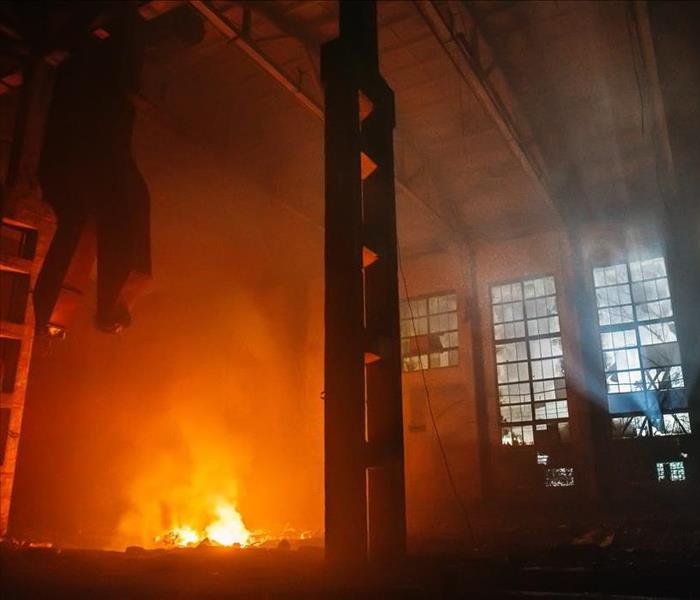 Our technicians have the certifications and training to take care of your warehouse and restore it "Like it never even happened."
Working with Professional Restorers after Commercial Fire Damage in Bow Helps
There is no convenient time for a fire, but if you are prepared, you can deal with the aftermath better. In case of a warehouse fire, a lot needs to be done to restore the property to its preloss condition. Apart from removing charred remains of the contents that once occupied the expansive space, the structure also requires cleaning and any damaged areas fixed. Working with restorers can help reduce the cost of your claim by minimizing the number of items that need replacement. Knowing the right restorers in Bow before a fire happens is an important aspect of preparedness.

There are several aspects of fire damage in Bow, so restoration takes different approaches. Seeing everything covered in soot and other fire residues might tempt you to throw every item out and replace them with new ones. However, the cost involved is prohibitive of such actions. You can reduce the costs through resurfacing of some items. Common ways to resurface affected items include repainting, refinishing or covering upholstered surfaces afresh. The cheapest option though is cleaning. When our SERVPRO technicians visit your affected property, we do a thorough inspection to establish which areas can be cleaned thus reducing the costs you incur.

Cleaning a large building such as a warehouse is tedious work. Lack of the right equipment or workforce further compounds the level of difficulty. When you call SERVPRO, our team has the necessary tools such as high-pressure washers which clear smoke residue from walls faster than using brushes. We also have scissor lift platforms which enable our technicians to reach various sections of the structure for close-quarter cleaning or inspection.

Because of the different contents in a warehouse, the fire residues left might not be uniform. Our SERVPRO technicians use different approaches to address every type of residue. The primary method is the agitation of affected surfaces. We might also rely on chemical action by applying professional cleaning products that dissolve, emulsify, bleach or oxidize the residue. Do you also know that the temperature of the cleaning product when it is applied to a surface affects the outcome?
Locally Owned Company with National Resources
In the aftermath of a fire, call SERVPRO of Concord at (603) 225-2825. We're Faster To Any Size Disaster.


For more on the city of Bow, click here.