Are You Making These Types of Fire Damage Remediation Mistakes in Bow?
3/6/2019 (Permalink)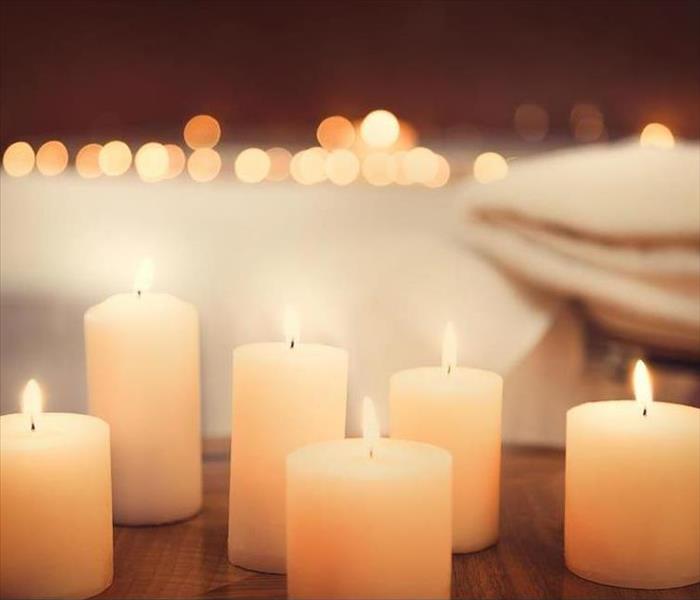 When your home is facing fire damage due to candles, it is time to contact the certified and experienced SERVPRO team to remediate the damage.
Safe Candle Usage and Why SERVPRO is the Right Choice for Fire Damage in Your Bow Home
Candles are a great way to liven up any room in your Bow home by adding some warm light and fresh scents. However, if you do not use them carefully, they can also create devastation. Understanding the dangers of candle use and knowing how to use them safely helps to prevent a tragedy in your residence.
Fire damage to your Bow home is not something that you should try to handle on your own. You not only have the damage from the flames, but also settled smoke and soot, plus smoke smells, to clean. That is why SERVPRO should be called in for help. With our experience and trained staff, we can restore your home in a timely fashion to prevent additional damage.
Overall, fires from candles are not as destructive or prevalent as the ones caused by kitchen or heater incidents. More than half of home fires related to candles begin when the candle was placed too near combustible material like a drape or a curtain. Some of the most common items which are ignited from candles are cabinets, bedding or mattresses, clothing, or blinds and curtains.
SERVPRO techs must deodorize all odors left behind, besides restore the damage done. Odor molecules are quite volatile and vaporize easily. They dissolve and carry odor vapors to your nose when humidity levels are high. Therefore, odors in humid air seem strong than those in dry air. High temperatures also let odors penetrate surfaces more easily. Weather conditions, therefore, impact how evident odors are and require us to be even more thorough when removing them.
Taking precautions while using candles can help keep you and your family safe. Always place candles on stable furniture where pets and children cannot knock them over, and do not fall asleep when a candle is burning. Before lighting, trim wicks to ¼ inch, and use holders that are noncombustible to catch the dripping wax.
Keep hair and clothing away from an open flame and do not use candles near paper, holiday decorations, flammable liquids, blinds, books, curtains, lampshades, bedding, clothing, and other combustibles. If there are any compressed air tanks in the home, do not use the candles near them, either.
SERVPRO of Concord can come to the rescue when your home in Bow, Penacook, or Concord suffers from fire damage. You can call us anytime at (603) 225-2825 when tragedy strikes so we can help you make your home look as if it never happened.
Click here for more about Bow.