Mold Damage Cleaning in Bow
3/21/2019 (Permalink)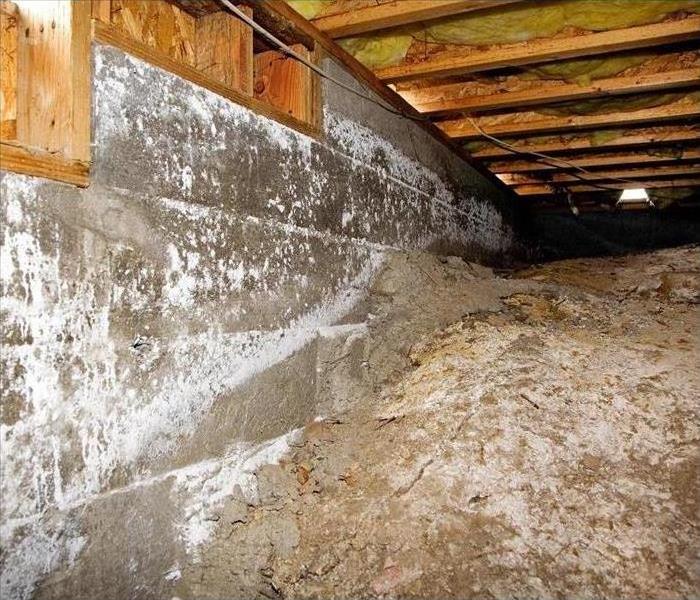 SERVPRO technicians have the professional equipment to remediate mold damage found in attics and crawlspaces.
Mold Damage Remediation for Hard to Reach Spaces of Your Home
The township of Bow is in a great location. We are far enough inland to usually miss the worst of the coastal weather and just close enough to larger cities like Concord to enjoy small-town life without losing any of the benefits of a larger city.
Being a picturesque, small town does not protect Bow from mold damage, however. With decades of experience in New Hampshire, SERVPRO is ready to defend our community from this quiet disaster that still causes millions in cleaning, repair, and replacement costs every year. Since our area has a relatively high level of humidity throughout the year, our office makes use of our extensive inventory of chemical cleaners and equipment to eliminate the threat mold presents.
When it comes to damage, most of what mold spores affect is structural property. In older homes like many that make up our community, mold can go undetected for years. The many crawlspaces and dead spaces created by renovation over two centuries are difficult to get into and examine for mold or insect infestations.
For areas like this, SERVPRO technicians use an anti-microbial agent combined with a fogging machine. This device forces the chemical cleaner into small regions and wood joints where a spray would be unable to penetrate. The fog begins killing the mold spores on contact. The few that do survive retreat to an inert state and present no threat to a home or its residents.
In attics and other more easily accessible areas, we use a hand pump or powered sprayers to deploy liquid anti-microbial agents. As with the fog, the chemicals begin killing the mold on contact.
If the mold has expanded into the walls and other support structures, we are licensed to remove and replace posts and support beams up to the point where a new roof may be needed. Work such as installing new, interior wall frames or ceiling supports we accomplish in a few days, leading up to a couple of weeks, depending on the size of the home.
Taking care of our community is the top priority for SERVPRO of Concord. As a locally owned office, the homes we clean and repair are our friends and neighbors. If you need us, call (603) 225-2825 today.
Visit http://bownh.gov/ for more information regarding Bow.