We Will Hep You Get Back In Business After Water Damage In Concord
4/17/2019 (Permalink)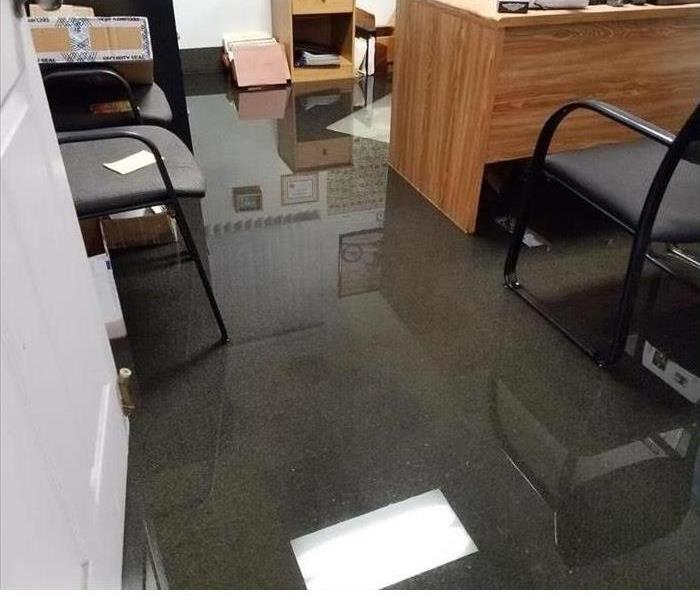 SERVPRO can extract the standing water from your business quickly to reduce damages and disruptions. We are available 24/7 so don't hesitate to call.
How to Handle Commercial Water Damage to Your Concord Retail Store
If your retail store has sustained water damage, leaving the cleanup to your staff can expose you to some significant risks, including structural damage and mold growth. Insurance cannot cover this damage if you could have prevented it by taking the right steps. To avoid additional damage, you need professional water removal services. Prompt and proper action recovers more items, prevents secondary damage and delivers the soonest return to re-opening.

Commercial water damage to your Concord retail store could occur due to a faulty fire sprinkler system, burst pipe or a roof leak. To prevent secondary damage, you can contact SERVPRO. We offer water damage restoration services on a 24 hour 7-day basis. We bring the latest in equipment and decades of experience to the table, and we can be at your store within a short time.

Water can ruin your stock, store fixtures, furnishings, flooring, and equipment. Without prompt removal, drying, dehumidification, and sanitizing, secondary damage adds to repair time and expense, often requiring the complete shutdown of a business. Lost customers may not return. SERVPRO franchise professionals can assess the extent of the damage, and create a comprehensive plan for extracting water and drying out your retail store.

Our technicians can use sophisticated equipment to remove water from vinyl tile flooring, which is common in retail stores. We can use portable extractors to remove water from restricted areas. The three major components of an extractor are the heater, pump, and vacuum system. The heater heats cleaning and rinsing solutions so that they penetrate a surface quickly. The pump generates pressure to spray solutions through a wand onto the surface. The vacuum removes moisture and soil from the surface and collects it in the waste recovery tank.

If your store has carpet flooring, we can use weighted extractors to force the water out of the wet carpeting. We also use dehumidification equipment to remove moisture from the air. Our technicians monitor and maintain proper humidity, temperature and moisture levels throughout the drying process to ensure complete and fast drying.

When dealing with commercial water damage, SERVPRO of Concord has the expertise and specialized equipment to make it appear "Like it never even happened." Contact us at (603) 225-2825 for water damage restoration services in Concord, Bow, Penacook, and neighboring areas.
Come out and enjoy a group hike, Saturday, April 20th @ 10 a.m click here for more information.