We Have The Proper Techniques To Restore Your Bow Home After A Fire
9/5/2019 (Permalink)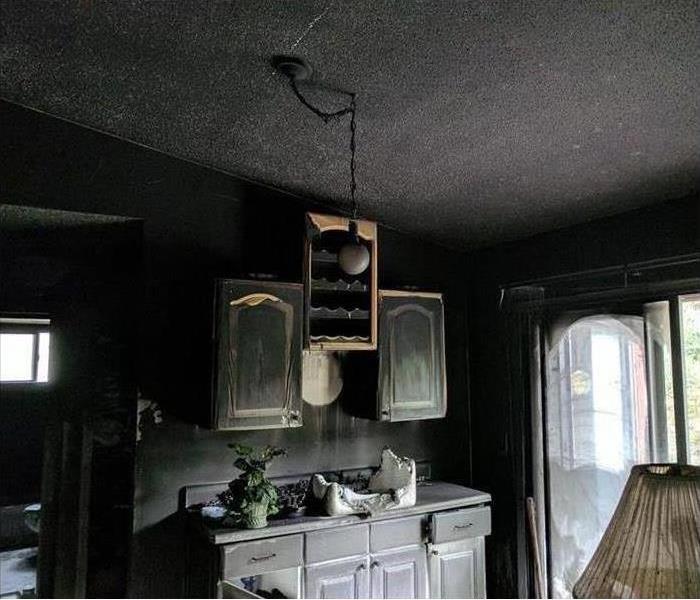 The photo shows the master bedroom suite which did not suffer any actual fire damage but soot and smoke damage affected this room of the house.
Professional Fire Damage Restoration For Bow Homes
With the Merrimack River as its Eastern border, Bow residents usually think floods when talking about local disasters. Despite the proximity, more homeowners find fires to be a more damaging and costly problem.
Fortunately, most fire damage in Bow and in general does not result in the complete loss of the home. SERVPRO restoration teams often find themselves spending more time and effort to clean a residence of smoke and soot, rather than pulling down walls or constructing a new roof. Damage comes in the form of residues left by the smoke and soot. To remove them, team members use a variety of methods, tools, and agents.
Surface Cleaning techniques include spray and wipe and foam cleaning. Spray and wipe is the first action technicians use on most surfaces. They can use water or a cleaning agent to break down residues for fire damage removal. SERVPRO technicians use foam cleaning for the same results on items where the color might run like furniture fabrics and curtains or drapes since it uses far less water.
Absorption is an excellent method to clean items too fragile for water or solvent-based cleaners. Here, our technicians apply a layer of powder that absorbs the residues and then vacuum up everything without damaging the surface. The cleaning powder is also very useful on difficult, porous surfaces like brick, concrete, and marble.
When there is no concern about colors running or fragility, and the item is covered heavily in residues, technicians immerse the item in a tank of cleaning and then use Ultrasonic Cleaning to break them down for removal. A device generates sound waves to agitate bubbles and force them through fabrics and across surfaces. It is an extreme method of cleaning, and we use it only when other methods cannot get the job done.
These are only several of the methods available to SERVPRO of Concord restoration teams. To return homes to their original, pre-fire condition, we use every possible method and cleaning agent at our disposal. If you have had a recent fire here or in other areas like Penacook, start the restoration process by calling us at (603) 225-2825 today. We are here for you.
See more about Bow.