SERVPRO Using Science Means Effective Storm Water Removal and Drying in Concord
11/12/2019 (Permalink)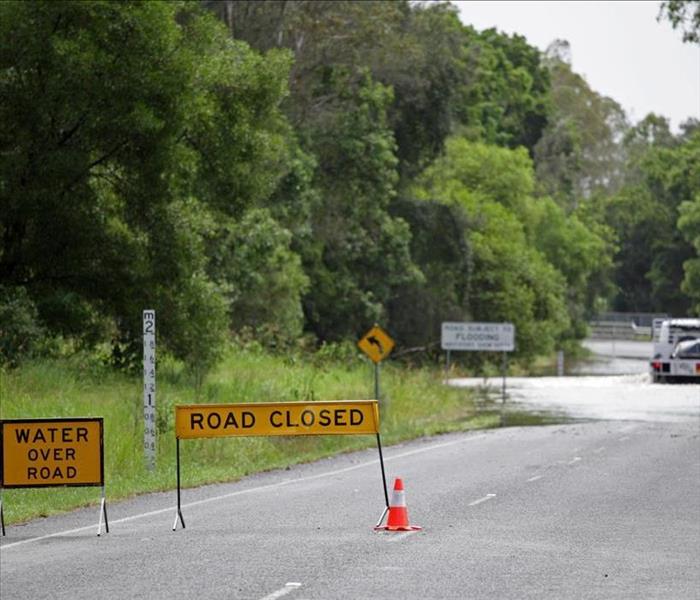 SERVPRO Can Help Homeowners in Concord when They Are Confronted with these Signs by Their Properties--Road Closed Flooding!
For Concord Properties, Positive Pressure System vs. Flood Cuts for Concord Cavity Drying
Flooding can be a hazardous and overwhelming situation for your Concord home. With how quickly damaging effects can spread throughout the lower levels of your property, including the basement and first floor, structural cavities can often be a transition point for migrating floodwater. There are several tools that we can use to address these threats in your household, and choosing among them gets based on multiple factors.
Overcoming flood damage in Concord homes often hinges on the inventory of advanced tools and equipment available to our SERVPRO team. With the speed of migration when the flow of floodwater is ongoing, a need for immediate action is vital. To stop this penetration of water through structural breaches like roof holes or broken windows, our division of licensed contractors can help with board up and roof tarping services. These same professionals can also help with drywall removal when necessary.

The removal of portions of drywall that has become affected by standing water is known as flood cutting. This process not only eliminates saturated areas of sheetrock installed in your house, but it can open up a direct pathway to the structural cavities that can hold water and lead to microbial threats, deterioration, and other hazards. Flood cutting allows for the direct application of air movers, specifically our low-profile centrifugal models, in instances where flood cuts might only be around a foot from the flooring.

In situations where we can address standing water quickly enough, and drywall or other wall materials do not need demolition and reinstallation, we can implement another strategy with our positive pressure systems. An example of this is our Injecti-Dry System, which gets used by drilling holes through the drywall behind removed baseboards and trim. Hoses for blowing heated air get inserted into the holes, effectively evaporating saturation and dampness for collection by refrigerant dehumidifiers working alongside our air movers.

The choice between these methods depends on the circumstances present after flooding and the condition of installed construction materials. No matter how severe these loss incidents can be, our SERVPRO of Concord team can make them "Like it never even happened." Give us a call at (603) 225-2825.