Who Assesses Odor Buildup in Concord Stockrooms?
6/21/2020 (Permalink)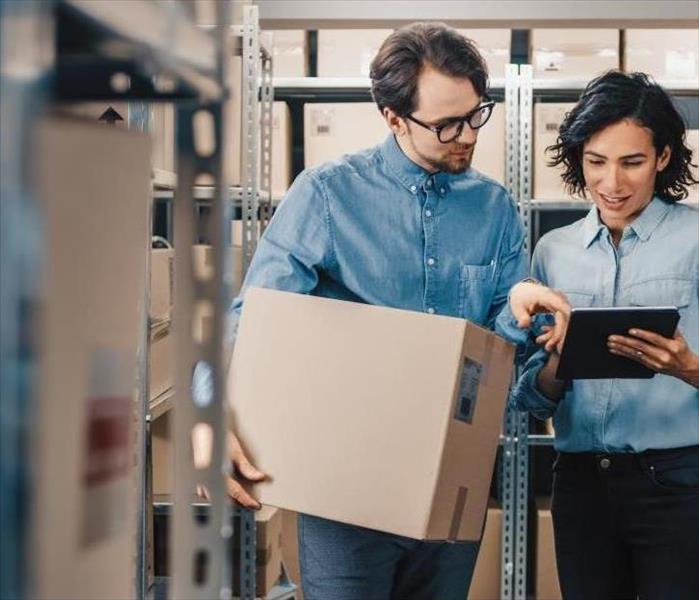 Many items can get damaged when your commercial stockroom suffers from water damage. Contact SERVPRO for water removal.
SERVPRO Technicians Are Experts at Finding the Source of an Unpleasant Odor and Performing Commercial Water Restoration in your Business.
Why Does My Stockroom Smell Musty?
The stockrooms and storage areas of Concord businesses can often suffer water-related problems over-time. Since these areas are infrequently visited and not open to customers, it may feel like there is less urgency when odors strike. Musty odors commonly occur as a result of water leaks or rainwater intrusion. The source of these damp spots may not be noticeable without a thorough inspection of the affected area. SERVPRO technicians can perform a professional inspection of your stockroom and put in place a drying strategy.
How can I remedy water odors on my business premises?
Reaching out to a commercial water restoration company in Concord can help you address your issue's root cause. Air fresheners may be a useful stopgap solution. These need changing every few weeks, and there is a strong likelihood of an untreated water problem causing damage over time. These damages can be permanent if left long enough, while the odor may become more potent and overpower air-fresheners or affect your indoor air quality.

How can I stop water odors at the source?
- Remove items that are covering walls or ceilings
- Visually inspect for any signs of discoloration or wetness
- Place a dehumidifier where odor is strongest

Do water odors disappear by themselves?
Changing seasons and temperatures are more or less noticeable, but they generally do not make odors disappear completely. To effectively remediate odors, you need to address the source of the problem and dry out any damp spots. SERVPRO can inspect and dry the wall cavities to ensure that your stockroom returns to its preloss condition. To address indoor air quality, we can place premium air filtration devices that can remove particles as small as 0.3 microns from an indoor environment.

If you need help dealing with stubborn odors in your business, contact SERVPRO of Concord at (603) 225-2825.

Click here for more information about Concord.