Window Leaks Can Mean Double Water Damage to a Concord Property
5/27/2021 (Permalink)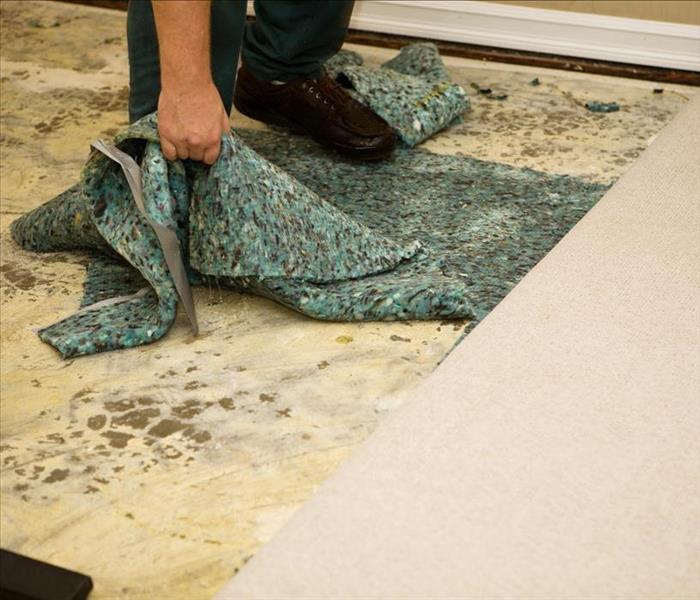 Water damage remediation services by SERVPRO are top-notch. We use the latest technology and techniques for any size water disaster.
SERVPRO Restores Water Damaged Homes Expertly
Dramatic architectural details poorly installed or maintained translate to the risk of structural damage both in and outside your home. Leaky windows allow water to enter your house and infiltrate siding and insulation. It would be best to have the restorative touch of SERVPRO to bring them back to preloss condition.
Window frames and the surrounding interior and exterior structures show severe signs of water damage to your Concord residence. Driving rains leak inside, and water seeps under the siding at a variety of weak points. We stand ready to assess the problem and provide reliable solutions to reverse the damage.
Ill-fitting windows allow water to soak through the window sills and trim. Inside your home, this spreads to the surrounding wallboard, furnishings, and floor coverings. SERVPRO's water damage team arrives and gets immediately to work extracting water and setting up air movers to dry out the affected areas. Careful examination of the structural materials indicates whether a thorough drying will suffice or if sections of trim, drywall, or carpeting require removal and replacement. We look for buckling and warping with wood or drywall and the risk of mold or delamination with carpeting to help make the decision. Our aim is always to restore rather than replace, but we discuss all options with you as we complete the work. Your wishes are followed.
Outdoors, wrongly installed windows funnel water under siding and trim. The window frames potentially pull away from the exterior, increasing the flow of water that now saturates insulation. SERVPRO identifies the problem, costly to repair and hazardous to the integrity of your home. Our technicians train regularly to sharpen their skills in drying out either exterior or interior areas of your home.
Troubleshooting installation mistakes or material failures ensures SERVPRO makes the recommendations that avoid future water incursion. Our staff finds the weak seals, loose or missing flashings, or incompletely attached or sheathed joints between the windows and your building's framing. The professional and practiced eye of an experienced IICRC and trained water damage technician provides the information necessary to resolve the window installation issues.
Work with SERVPRO of Concord to solve all manner of water damage issues. Contact us 24/7 at (603) 225-2825 to schedule an inspection.