What Is the Best Flood Damage Management Solution in Concord Premises?
2/27/2022 (Permalink)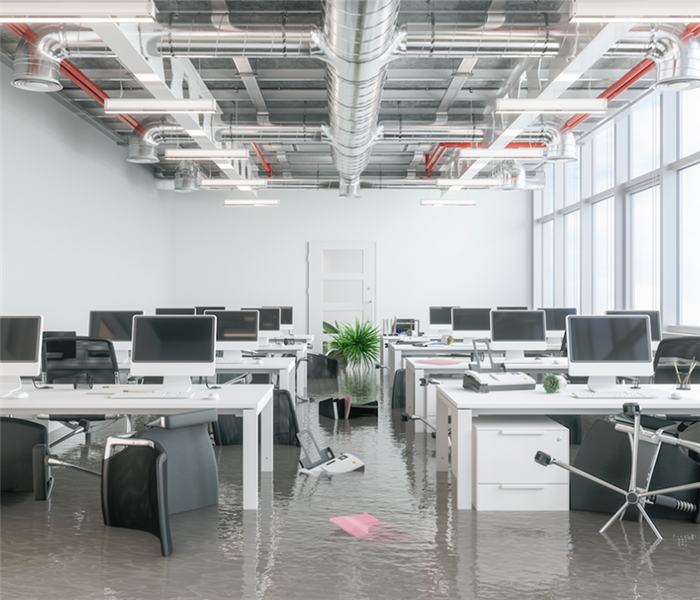 Regardless of the cause, flooding at your commercial location needs to be dealt with right away. Contact our certified technicians 24/7.
SERVPRO Evaluates Flooding Sources for Appropriate Restoration of Concord Properties
Flooding can arise at your concord property for various reasons, including torrential rain or rising water overflowing from natural waterways such as rivers or lakes. Since buildings are constructed to withstand extreme weather, there might be additional reasons why your property floods, such as a roof breach or shattered windows. Whatever the cause, you must take action to control the flood damage for your business to continue normally.
The water source matters as you take action against flood damage at your Concord facility. Some sources like rising groundwater from rivers lead to heavy contamination, unlike torrential rain breaching through a roof. The amount of water involved also differs depending on the source. SERVPRO provides comprehensive solutions to match the different challenges arising after flooding.
The most challenging aspects of dealing with flooding include:
Controlling contamination
Handling deteriorated materials
Cleaning the property
Contamination falls into different categories, with level 3 being the most severe. Rising water from streams and rivers falls in this category. Exposure to such water necessitates teardown and removal of several materials since decontamination is not possible in all areas. Our SERVPRO technicians help identify what items you need to remove based on their porosity.
Other necessary actions to manage contamination include:
Spraying broad-spectrum disinfectants
Securing the demolished materials for safe disposal
Moisture management to halt further microbial development
Receding flood waters leave various residues like silt and mud, thus significantly soiling materials and surfaces. A thorough cleanup exercise is necessary to address diverse soils depending on the affected material. Our SERVPRO technicians help because we have appropriate resources, including powerful agitation equipment such as pressure washers and rotating brushes which simplify the cleanup of structural areas like floors or contents like carpets and upholstery.
When you need assistance in dealing with flood damage, SERVPRO of Concord can help. You can reach us at (603) 225-2825.