What Should I Do if a Fire Burns My Concord Ceiling and Attic?
2/27/2022 (Permalink)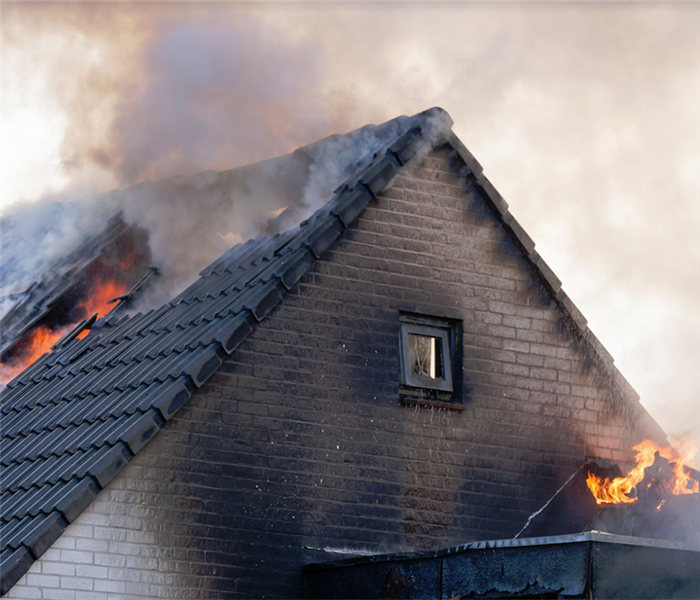 After a home fire, there are charred remains and odors that need to be dealt with. Contact SERVPRO right away for fire damage remediation services.
For Fire Damage Mitigation Inside Your Attic in Concord, Call SERVPRO
Once flames light up inside your Concord home, the heat will rise, and the blaze will start torching your building materials that are above the initial source. Commonly, an inferno can engulf the components that make up your ceiling, attic, and roof.
How Can You Tell What Materials Will Have to be Removed and What Can be Saved?
During every fire damage project in Concord, whether or not your structural components will have to be removed and replaced depends on how severely the item got burnt and how deep the charring went. Our SERVPRO technicians can conduct a thorough inspection of your building and determine which items we think we can save through sanding or sandblasting, refinishing, cleaning, and sealing. When the flames have consumed sections of your ceiling and made their way into your attic, we inspect the following building materials for issues:
Acoustic Ceiling Tiles and Drywall- In most cases, if your ceiling tiles or drywall got anything more than just surface charring, the materials must be removed. In this case, we can remove just the burnt pieces of your ceiling and dispose of them in sealed plastic bags. If other parts of your sealing are coated in soot residues, then we can clean them with dry sponges or wet cleaning techniques.
Insulation- If the insulation inside your attic got burned during the fire, in most cases, it must get removed. If your insulation is just smoke-damaged, it can be deodorized, but it is usually more cost-effective to remove and replace it.
Trusses- When determining whether we can save your affected roof trusses or not, we follow the general quarter inch rule. If the charring is less than a quarter-inch deep, then we can sand down or sandblast the charring off. As a final step, we can then apply a specialized sealant paint to your entire attic to seal any foul odors.
If you ever notice that your attic got burned or smoke damaged after a fire, call SERVPRO of Concord at (603) 225-2825 24/7.