Restoration Plans for Unique Cases of Flooding in Bow
4/11/2022 (Permalink)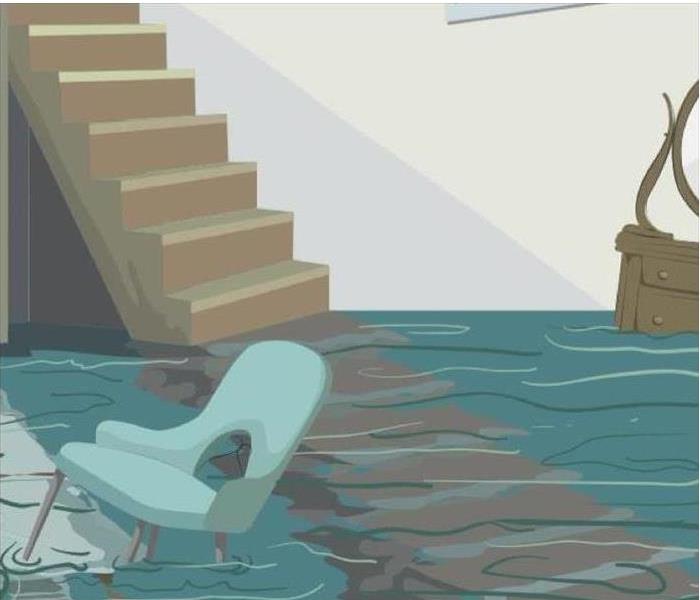 Flooding happens quickly and can bring mold into your house if not dealt with right away. Be prepared by having SERVPRO on speed dial.
SERVPRO Technicians Arrive Equipped to Remove Flood Waters from Your Property
Our community lies to the west of the Merrimack River, occasionally posing a flood risk. Intense storms also threaten residents with watery basements due to roof runoff or seepage. Appliances and tubs overflow, among other household water hazards. No matter the cause, SERVPRO offers experienced crews and powerful equipment to restore residences affected by flooding.

To extend the growing season year-round, you installed a hydroponic garden system. The reservoir holds more than thirty gallons and unfortunately sprung a leak while you were out of town over a long weekend. The lower level, including a carpeted family room, suffered flood damage in your Bow home. Water, fortified with the nutrients necessary to grow plants without soil, needs removal, and structures, fixtures, and belongings need drying. Expect us at your home within hours, quickly implementing a plan to return the flooded spaces to preloss condition.

Floodwater classifies as clean, gray, or black. Gray is somewhat black and significantly contaminated with substances that can be harmful to buildings, contents, and occupants. Professional cleanup is essential when the water has added chemicals, as with your hydroponic system, and SERVPRO ensures technicians trained in abating tainted water complete your job.

First, an experienced project manager assesses the challenges presented by the flood of water mixed with the hydroponic growth medium. The fertilizer intended for plant growth may instead encourage microbial colonies as it soaks into building materials, flooring, and up the walls. Just 48 hours of wetness risk mold growth, so the first task is removing water with pumps and extractors. Our truck-mounted system allows us to collect the gray water for disposal off-site according to local hazardous waste procedures.

Because carpeting and drywall soaked up the water, we evaluate whether drying of these materials is possible. The disintegration of the pressed fibers in the drywall signal that removal and replacement may be necessary. The padding under the carpet is relatively inexpensive to switch out and increases the likelihood that the carpeting dries thoroughly. Air movers and dehumidifiers speed the removal of moisture in the carpet, the floor beneath, the walls, and the air itself. The SERVPRO team applies antimicrobial agents to the carpeting during the restoration process as a safeguard.

SERVPRO of Concord is up to any challenge, including the concerns that arise when your lower-level floods due to a hydroponic growth system leak. Call (603) 225-2825 for an inspection and the development of a plan that fits your unique flood damage issues.