Emergency Flood Damage Restoration Services in Concord
1/28/2018 (Permalink)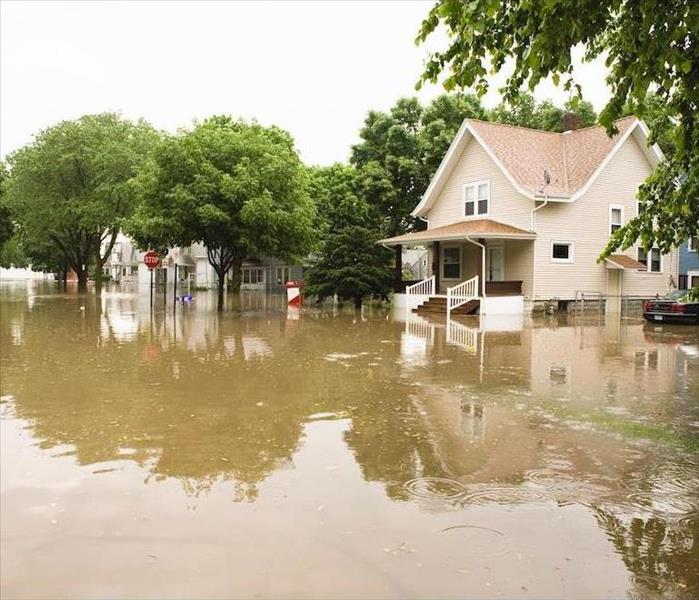 Finding yourself knee deep in water after a storm can be overwhelming. Contact SERVPRO right away for fast drying out services and remediation.
TEAM SERVPRO Arrives on the Flooded Scene Quickly to Dry Out Your Property
Flood damage in Concord, whether due to heavy storms, hurricanes, or flash floods, can cause mild to severe consequences. Additionally, exposing building materials to wet conditions for a long period increases the possibility of mold and mildew growth. Certain flood damage situations can lead to toilet overflows and sewage backups, subsequently creating odor problems that may require professional help to resolve.

When a natural disaster causes flooding in your Concord home, you can always count on SERVPRO for quick and efficient flood damage restoration services. We are locally based and properly armed to deal with any type of damage to your property before it is too late. This is aided by the fact that our technicians are highly trained and certified by the IICRC to ensure a smooth restoration process. Our goal is to reverse the effects of flooding and water damage as quickly as possible, "Like it never even happened."

Regardless of the cause of flood damage, an immediate response is essential. Standing water can ruin carpets and furniture, rot or warp building structures and materials, raise humidity levels, affect insulation, damage electrical systems, and create a favorable environment for mold growth. More than containing and removing excess water quickly, it is necessary to take emergency measures to curb the flow of water.

SERVPRO has a competent emergency response team that can mitigate the damage by removing waterlogged items such as carpets, kitchen appliances, and furnishings to prevent further harm. After assessing the extent of the flood damage, we can determine which belongings need replacement as opposed to repairing. We can provide temporary storage in our warehouses for any items that can be restored.

SERVPRO professionals use advanced equipment to extract excess water and then install dryers and dehumidifiers to reduce moisture content in the room. The idea behind this is to speed up the drying process. We also have EPA-approved disinfectants that are very effective against mold, fungi, and other microorganisms that may appear as a result of the intrusion.

No need to despair when you encounter flood damage to your property. Just contact SERVPRO of Concord right away to commence the flood damage restoration process. We are available 24/7, any day of the week at (603) 225-2825.

Click here for more about the city of Concord.