Smoke and Fire Damage Cleanup for Your Bow Business
2/5/2018 (Permalink)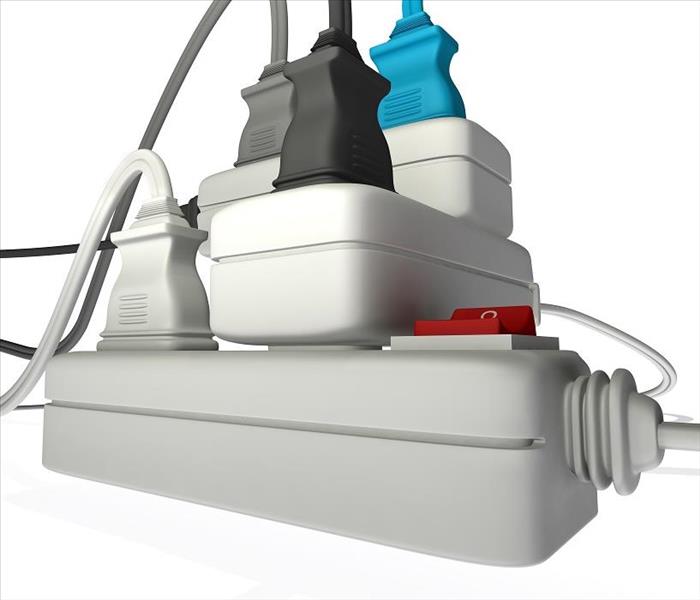 Having too many cords plugged into one electrical strip is a hazard and can result in an electrical fire.
Trust the Professionals at SERVPRO to Properly Restore Your Business after Fire Damage
Electrical fires can occur at any time in your Bow pizza parlor, many times from outdated wiring, faulty outlets, or too many items plugged into one electrical strip. To reduce the risk of this happening, make sure all your electrical outlets, wiring, and cords in your building are up-to-date, not damaged or broken, or running underneath an appliance or rug which can make the wires overheat. Make sure extension cords work correctly and do not have exposed or frayed wiring.
If an electrical fire did break out in your pizza parlor in Bow, the fire damage left behind wouldn't be just from the heat and flames. You are looking at soot and smoke damage as well, plus perhaps water damage from firefighting efforts. It is a lot to deal with, so call our professionals at SERVPRO to help you. We are professionally trained to handle all aspects of fire damage, and we have the tools to do the job efficiently and correctly so you can get your business back on track.
When restoring materials that have been damaged by smoke, our goal is to restore them back to their preloss condition. We apply some basic principles of cleaning to accomplish this task.
First, SERVPRO techs locate smoke residues by carefully inspecting the area affected. We begin near the source of the fire and then trace how far the smoke moved through your structure. Different kinds of smoke residues can be in the same loss environment. We select a cleaning method which effectively removes the kind of smoke residues that are present.
We also need to identify the kind of surface the residues are on, which determines what cleaning methods and products are safe to use on the particular surface. We are careful to preserve the surface or material being cleaned. However, we may not be able to restore some materials if they cannot withstand the process of cleaning.
Smoke residues bond with surfaces they contact, so we use dry and wet cleaning procedures to release and carry the residue particles away from the surface affected. Then we can properly dispose of the cleaning waste and debris.
The methods of cleaning up after a fire at SERVPRO of Concord are designed so we can thoroughly restore your business in Bow, Concord, or Penacock. Get in touch with us immediately after a fire at (603) 225-2825 so we can get you back and up and running quickly.
Click here for more information regarding Bow, NH.