Professional Restoration for Flooding in Your Concord Home
5/25/2018 (Permalink)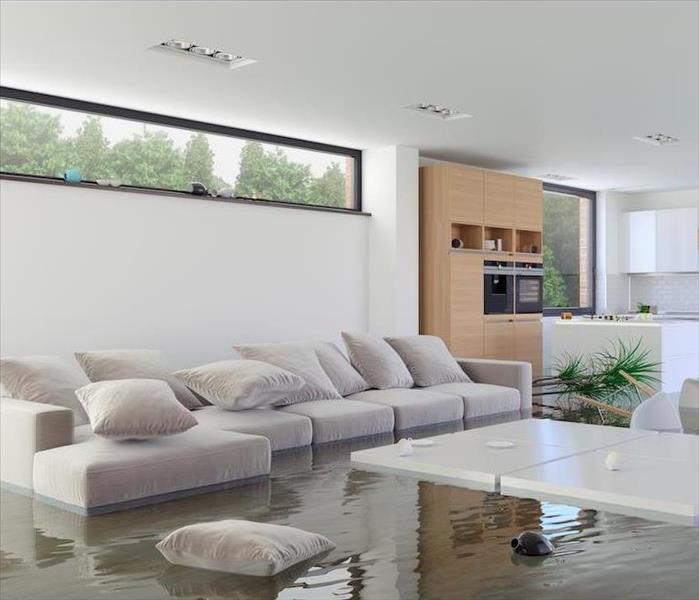 Flooding in any room in your home can lead to secondary damages including mold. Contact SERVPRO for drying out and remediation services.
SERVPRO Technicians Quickly Tackle Drying Out Your Home After a Flood
With spring finally showing its face for Concord homeowners, the threats of the winter have passed and gotten replaced with the concerns that follow along with the new season. For those in the area, torrential rainfall and severe weather systems passing through often pose some of the most considerable risks to a home, as oversaturated grounds can allow for flash flooding to occur. This natural disaster can affect multiple homes at the same time, preying the worst on the homes with compromised foundations and degrading masonry.

The trouble is, you might not realize that your Concord home is at risk for flood damages until you are amid a crisis. While you might not know where it is coming from specifically or how to slow the process down, fortunately, there is someone that you can call who can help you. Our SERVPRO team remains ready for any disaster 24/7, making us an ideal choice to help you overcome the current flooding in your home and get things back to the way they were before this occurrence.

Our team of professionals begins the restoration process from the moment that we step through the doors of your home. With flooding situations, time is always of the essence. Working quickly to determine both the full scope of the damage your home faces and the penetration points which allowed the flooding in the first place are critical to restoring your home to its original condition.

Our SERVPRO team often requires a pump truck from our fleet to speed up the extraction of water from the affected area. The faster this pooled water can get removed, the less irreparable damage its presence can cause to your home. Drying follows immediately afterward, focusing on removing all of the dampness and moisture (no matter how far spread).

The faster that professional restoration services can get to work on the present flooding damage in your home, the less severe damage that the team has to contend with to restore your house. You can trust the experience of our SERVPRO of Concord specialists to help you overcome this disaster and get your home back to the way it used to be. Give us a call anytime you need us at (603) 225-2825.

Click here for more information on the city of Concord.