Concord's Flood Damage Experts Explain Moisture Actions
7/15/2018 (Permalink)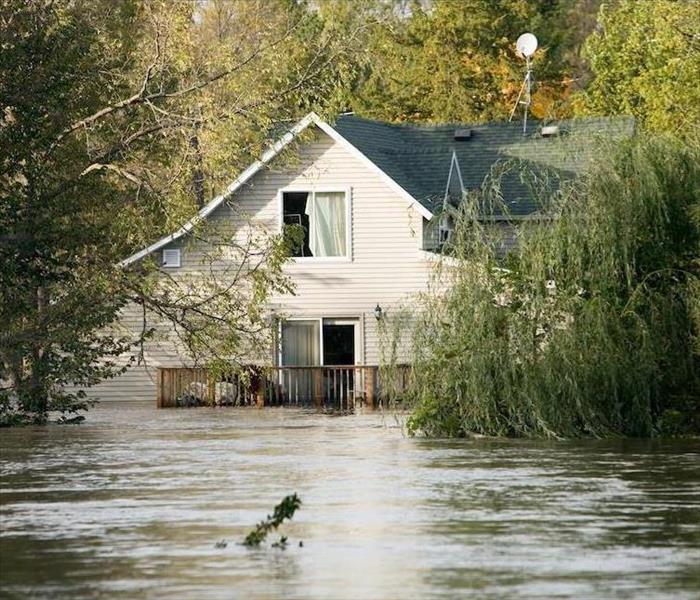 Flooding can bring an excessive amount of moisture into your home. Contact SERVPRO for effective remediation efforts.
Our SERVPRO Technicians Understand Flooding and How Water Behaves
Monsoon and hurricane seasons are on the way for most parts of the country and could cause a storm to land near Concord. Every once in a while, a severe thunderstorm creates conditions that can cause you extensive property damage. For example, the combination of heavy rains and winds can break off tree branches throwing them into your home. If something that got picked up by the wind collides into your house, exterior walls, windows, or your roof, they can all get ruined. If an object punctures a hole in one of these items, the excessive rain can pour into the interior of the building.

Once a significant amount of rainwater gets into your home, problems can start to take place. When flood damage in Concord occurs, our SERVPRO technicians are experienced in diagnosing every issue that a storm could have caused. We start by taking measurements including moisture content, humidity, and temperature readings. We first take readings of the conditions in the affected area of the structure. We then go to places of the house that we know did not get affected by water to come up with drying goals.

Rapidly drying out a structure takes specialized equipment and knowledge of how water behaves inside a structure. Our SERVPRO restoration crews take temperature readings because how hot it is inside your home affects whether water stays in the air or condenses to liquid form. Air can hold different amounts of water at various temperatures. For example, when you pour a cold drink on a hot day, water from the air forms around your glass making the outside of it wet. The temperature at which water vapor turns into liquid water is known as the dew point.

When drying out contents and building materials, it is vital that the temperature never reaches the dew point or water can form on interior surfaces and cause secondary damage. During the drying process, the goal is to create the ideal conditions to speed up the natural process of water turning from liquid to water vapor also known as evaporation. Dehumidification then forces water in the air to condense into a liquid, removing the evaporated water coming from the wet items out of the air. Any time you suffer property damage after a thunderstorm, call SERVPRO of Concord at (603) 225-2825 24 hours a day, seven days a week.

Click here for more information on the city of Concord.