We Make Your Bow Building Safe Again After A Fire
8/19/2019 (Permalink)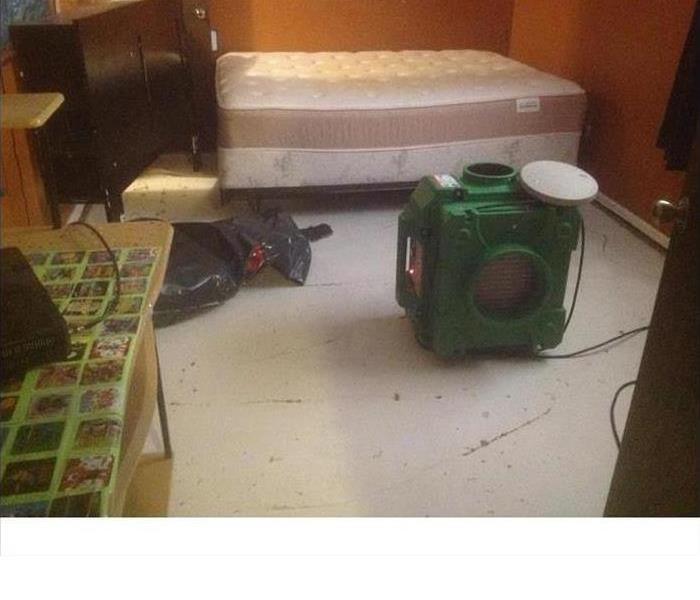 Pictured is an air scrubber that recycles the interior air through HEPA and activated carbon system to capture the airborne particles and the odors.
Challenges When Fire Damages Your Bow Day Care Center
Keeping the space safe for vulnerable little one is the charge after a fire loss in you Bow Day Care Center. The families who depend on you and your staff for loving care now look to you for answers. They need assurance that safeguards are in place to prevent another fire. The certainty that the residues, odors, and debris left after the blaze can wholly and safely be removed is another understandable demand. We can help with the cleanup.
Small Fires Can Feel Like Big Problems
Although the minor blaze in an office of your Bow Day Care Center confined fire damage away from the children's areas, the risk of spreading residues and odors worries you and your staff. Contacting us for advice and mitigation and remediation services helps you answer the concerns of your small charges' families and should meet the requirements of licensing agencies.
Containment of the Remediation Work Space
To keep the unaffected spaces in the day care free of hazardous residues during the cleanup, SERVPRO partitions the fire site off. We use heavy plastic sheeting and add an air scrubbing system to accomplish several goals. The negative pressure generated by the air scrubber seals the edges of the partition. The suction pulls the contaminated air in the office through HEPA filters and then vents it to the outside. Our technicians wear personal protective equipment while working to clear the office of all residues. This also prevents the toxic debris from the fire from spreading on our employees' clothing or shoes.
Proprietary Cleaners and Disinfectants Safe for Use Around Children
The last thing SERVPRO wants when completing a fire damage project is switching the fear of exposure to fire residues with concerns about the hazards of cleaning and disinfecting agents. We are always upgrading our products to strike a balance between effectiveness and safety. Today botanically derived cleaners and disinfectants deliver the results needed in the restoration agency while being safe to use around pets and children.
Count on SERVPRO of Concord to use industry best practices and innovative new products to keep you and your littlest customers safe after fire damage. Contact us at (603) 225-2825 for a fire damage assessment and project plan.
See more about Bow.