How Can Property Owners Dry their Homes After Water Damage Takes Place?
3/26/2021 (Permalink)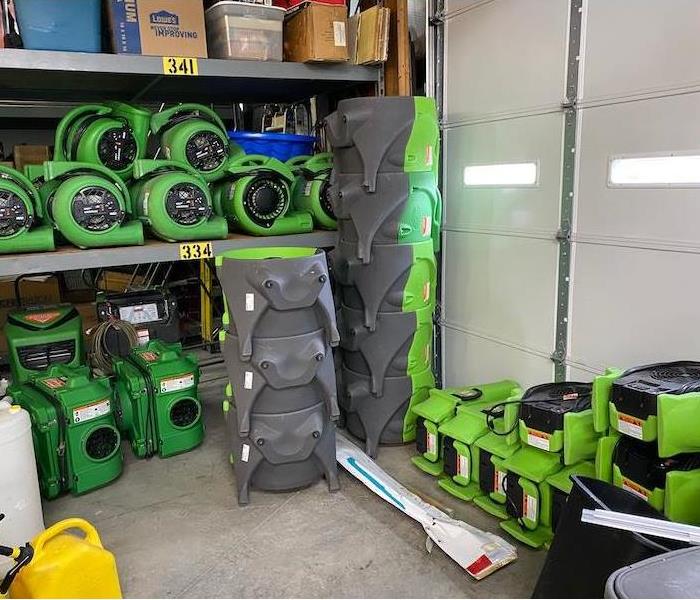 SERVPRO has the proper equipment needed to fight against water damage in your Concord home. Call on our experts for assistance.
They Can Hire Reliable Restorers Like SERVPRO to Perform Water Damage Restoration in their Concord Homes
When you have an unexpected leak in your property, it is essential to act fast. Water can cause damages such as mold growth, odors, peeling paint, and warping of wooden floors. To avoid these damages, hire a reputable restorer like SERVPRO, who can get your property to its preloss state, "Like it never even happened."
Can SERVPRO Restorers Work with my Insurance Company?
We can work with your insurer during the process of water damage restoration in your Concord residence. Our friendly and highly trained restorers offer a contents claim inventory service (CCIS). This involves taking an inventory of the contents in every room, including taking pictures and barcoding in some cases. Our CCIS offers an accurate report, the value of contents detailed, and a preloss list. To prevent your water damage claim from being denied, make sure you do the following:
Maintain repair records
Understand the coverage on your policy
Provide detailed evidence
Can Restorers Dry Moisture on my Wooden Floor?
We have access to state-of-the-art equipment and tools that we use to extract moisture in hard-to-reach areas. We can use portable electric heaters to heat the wooden floor. Heating materials or surfaces with moisture increases the rate of evaporation, leading to faster drying.
If you want water damage restoration done right and on time, contact SERVPRO of Concord immediately. We respond fast and begin restoration immediately. Call us today at (603) 225-2825.