How Does an Air conditioning Malfunction Necessitate Water Mitigation for Concord Businesses?
6/11/2021 (Permalink)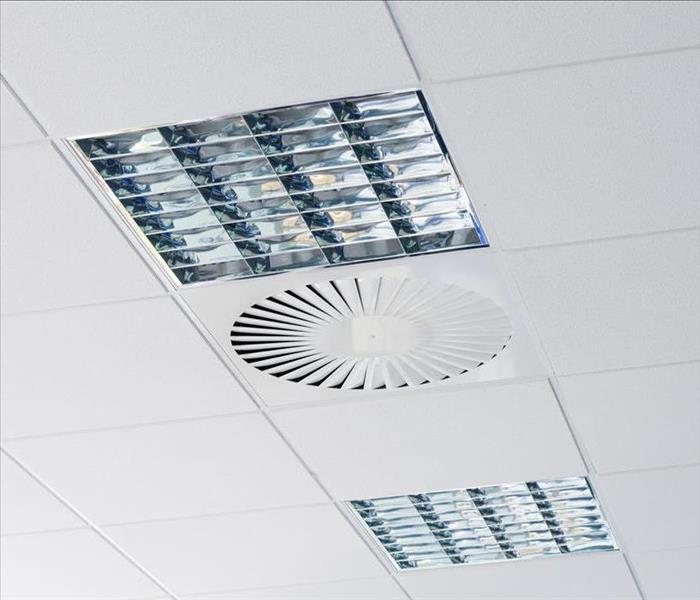 Water damage in Concord commercial buildings are not always readily visible. SERVPRO can dry the ducts and restore good indoor air quality
You Can Call SERVPRO to Help with HVAC Issues Including Water Damage Repairs at Your Concord Office
Ventilation systems in commercial buildings often provide an unwanted conduit for transporting water and mold odors.
In most cases, water mitigation in Concord business premises is required when internal water sources such as burst pipes or external sources like rain introduce moisture in unwanted areas. However, the moisture can also originate from uncommon sources such as a malfunctioning HVAC system.
The ductwork in a faulty HVAC system produces condensation, seeping out through cracks wetting porous materials in the surrounding areas. The state of the building can worsen the problem. For instance, in older buildings with scissor truss work, you might not notice the issue until the water is significant enough to flow through. SERVPRO helps establish the problem with the air conditioning unit and also resolves the damage moisture causes in structural elements.
The water restoration may involve:
Water clean up
Water damage repairs
Water damage remediation
SERVPRO takes various steps to address condensation issues that lead to water damage. Cleaning air ducts and filters is one way to manage the condensation if the system is not physically damaged since contaminants restrict airflow. Our technicians use dry/wet vacs to unclogged ducts or specialized duct cleaning equipment.
Our technicians also inspect the system for cracks and other physical damages such as rusted drain pans or broken condensate pumps. Low or leaking refrigerants can also lead to moisture problems. After addressing the problem with the system, our technicians dry the affected structural materials eliminating the problem, "Like it never even happened."
SERVPRO of Concord helps with water mitigation under different circumstances. Call us at (603) 225-2825 for assistance to restore your business place to its preloss state.