Large Amounts of Water Spilling onto Wood Floors, What Now?
2/27/2022 (Permalink)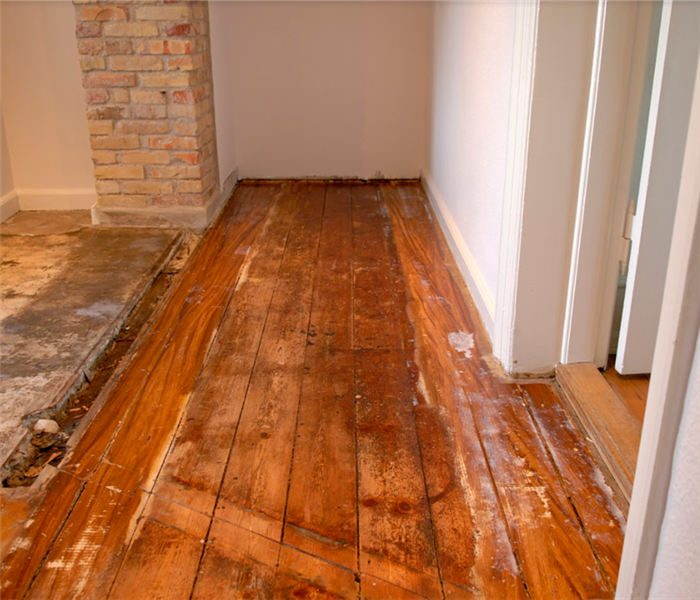 Quick action needs to be taken when water damage affects the wood flooring in your home. Call SERVPRO for water damage remediation services.
Wet Flooring Can Frequently Return to Good Condition by Using Water Damage Restoration Services. SERVPRO has Qualified Technicians for the Concord Area
Do Wood Floors Dry Quickly?
Wood floors can vary significantly in the material, making each Concord water restoration service different. Hardwood floors respond in other ways to drying methods than those that use laminate. Equally, the type of varnish on the floor can influence how much moisture it absorbs. When water intrudes into your property, it begins to migrate and soak into materials immediately. The length of time a water restoration takes is dependent on how long items have exposure to moisture and how much moisture is absorbed. SERVPRO technicians have several techniques to ensure that your home returns to a dry state as quickly as possible.
What Equipment is Useful for Drying Floors Efficiently?
Moisture probes to enable technicians to understand the extent of water intrusion
Air-movers and dehumidifiers to create the ideal drying conditions
In some cases, stripping agents to remove part or all surface finishes
How Can Floors Dry Faster?
The principle of water damage restoration in your Concord home relies upon creating the ideal conditions for drying. These conditions are created by adjusting the psychrometric atmosphere within the area to maximize drying efficiency. Flat-lay drying can make a smaller drying area that increases the speed that floors dry. SERVPRO technicians can seal an airtight plastic sheet across the floor, sticking it down with either water-proof tape or sandbags. Air-movers can then be adapted with a flex hose to inflate the sheet creating a concentrated drying tent. Using smaller drying areas can improve the speed of drying and prevent floors from sustaining permanent water damage.
What Other Methods Help to Dry flooring?
Placing drying mats across a large surface area to draw out moisture
Wet/dry vacuuming of the affected area
Removing floorboards to dry the subfloor below
Wooden floors are recoverable after most types of water intrusion. Contact SERVPRO of Concord at (603) 225-2825 now.