What Should I Do When Flooding Affects my Construction Site?
6/29/2020 (Permalink)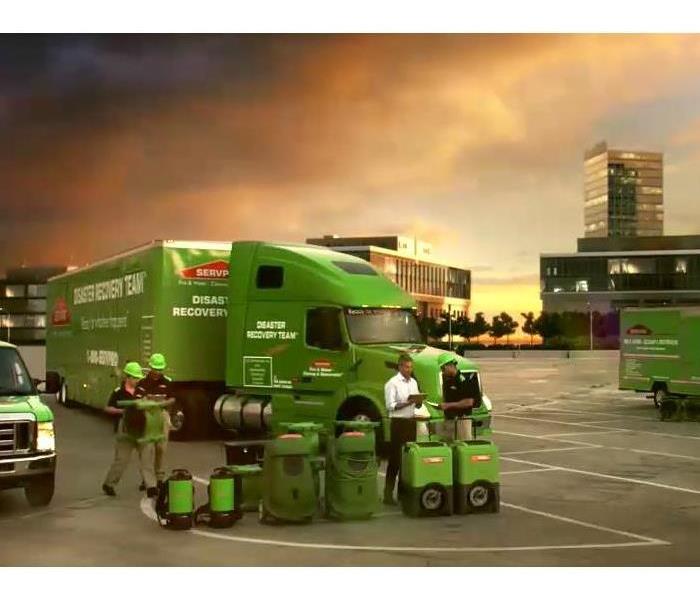 Call SERVPRO for any type of water removal and remediation efforts you need. We can get you back to work in no time.
SERVPRO is a Concord Restoration Service for Commercial Flood Damage and Loss Recovery.
What is Commercial Flood Mitigation?
A construction site can contain expensive equipment as well as metal and concrete building materials. When flooding occurs, this equipment is at a high risk of sustaining damage from water exposure, which could present itself as rusting or as mold damage to the building's structure. As a foreman, you may need to act quickly in the face of flooding by using a restoration service in Concord to avoid permanent losses to equipment or the structure itself. SERVPRO water restoration technicians (WRT) can perform essential mitigation at a building site to ensure that damages to scaffolding, equipment, and concrete structures are kept to a minimum. We are available for emergencies twenty-four hours a day and, as a local service, can arrive on-site within four hours of notification of loss.
How can you prevent rusting to metals during flooding?
Rusting of scaffolding or equipment and machinery can be an unfortunate by-product of commercial flood damage in your Concord building site. The most effective method of mitigation is to remove floodwaters using an electric submersible pump before establishing humidity controls to prevent the upper areas of the structure from adversely affected. By ensuring that the work-site is dry, we can perform the crucial steps to avoid water exposure from affecting metals. The next step is to ensure that corrosion does not occur by applying an industrial rusticide directly onto vulnerable materials to remain resistant to lasting damage.
What steps can I take to avoid water losses at a construction site?
- Inventory any equipment that can be removed from the site before flooding occurs
- Use a restorer with access to external storage for any material that does get wet
- Dry out the affected area quickly and establish humidity controls
If flooding threatens the equipment and scaffolding of your construction site, contact SERVPRO of Concord at (603) 225-2825.
Learn more about Concord.