We Put The Flames Of Worry Out In Concord After A Fire Disaster
6/10/2019 (Permalink)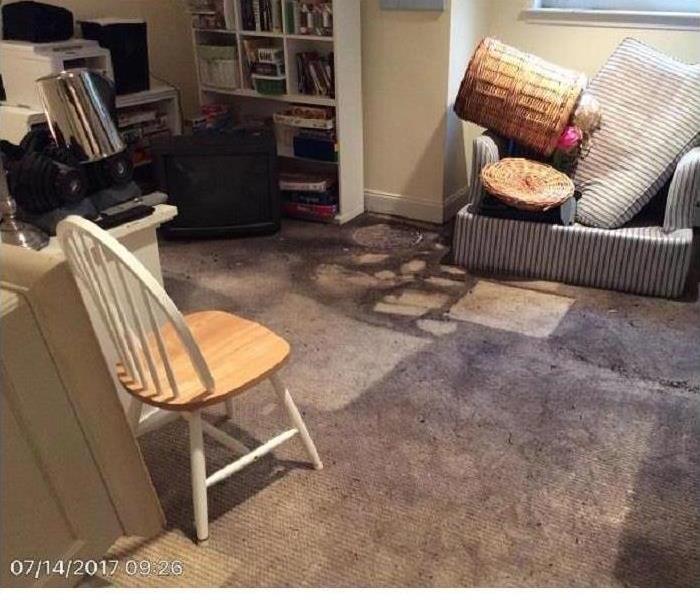 After the fire is put out, soot remains and we have the equipment and training to restore your home of this damage and the odor it causes.
SERVPRO - Eliminating Fire Damage In Concord Homes
With I-89, I-93, and I-393 running through it, Concord is truly a crossroads community for our state and much of New England. Steady growth with an emphasis on family and education makes it a wonderful place to live. Only a major disaster like a fire can disrupt that life.

Returning to that beautiful, life means quickly eliminating the effects of fire damage in Concord to each residence. SERVPRO response teams train to take care of the obvious, physical damage left by the heat and flames of a fire, and the less obvious problems created by smoke and the soot residues left behind after the fire.

Property directly affected by heat and flames is usually beyond repair or so changed by the fire that it requires immediate disposal. Take the ceiling and interior walls after a kitchen fire as an example. The material usually is sheetrock or drywall panels, which is an affordable and excellent building material that lasts for decades, but very fragile when burned or soaked by the water used to extinguished the fire.

Because of its value, disposing and replacing it is cheaper and faster than attempting to patch and restore it. SERVPRO team members can quickly demolish affected panels, replace them, and apply a fresh coat of paint. The same restoration method applies to tiles used in drop ceilings and other materials like paneling and linoleum.

Quickly disposing fire damaged property also helps team members exert cleaning efforts only on the salvageable property. Since the residue particles are tiny, other companies might pass by an area or item that looks clean. Our technicians, however, know that these particles eventually stain almost every surface and the odors left behind can linger for years.

They begin cleaning by wiping down each surface with a dry sponge or cloth. Where needed, team members use a cleaning agent that also serves to eliminate odors. If the odors are exceptionally pungent, they also have access to chemical agents designed to cover and eliminate them. For odors that penetrated deep into the house, technicians use an ozone generator to create particles that can go just as profound to breakdown and eliminate them.

At SERVPRO of Concord, the goal is to help each homeowner return to a clean and safe home as swiftly as possible. If you and your home have been through even a small, quickly extinguished fire, contact us at (603) 225-2825 today to make sure there are no lingering effects that can spoil your life here in the Granite State.
Automobile registration in Concord is a two-step process, click here for more information.